Asia & Pacific
Japan
These are burial tombs, dating to the Kofun period (circa 300 – 710 AD). I only mention them here because of their immense size and multitude, Japan has over 10,000 mound tombs. The largest is the Daisen Kofun, above, which has the common kofun keyhole shape, and is 35 metres high and an incredible 486 metres in length. Situated in the city of Sakai, 92 other kofun can be found within six square miles.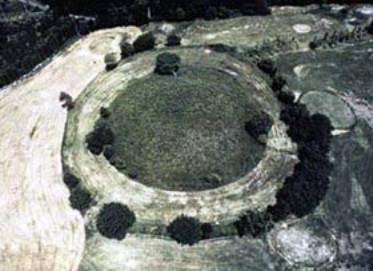 Built in the fifth and sixth centuries, are 311 burial mounds like this one, near the village of Saitobaru.
Java, Indonesia
Candi Sukuh
Not a lot is known about this site, except that it has the only pyramidal temple in Southeast Asia, and dates to 1416 – 1459 AD. As well as bearing an uncanny resemblance to Central American pyramids, there is also a twin-headed serpent, as discussed in Chapter XX.
China
Xian was for a long time the capital of Ancient China. It has become a popular tourist destination for Westerners since the discovery of the "Terracotta Warriors". The evidence of local pyramids is scant, due to the Chinese Government and its 'forbidden zones' surrounding the city of Xian in the Shensi Province. These zones are off-limits to foreigners, probably due to military and/or space program bases in the area. Within these zones there are possibly 100 pyramids, and some adventurers have managed to photograph a few them: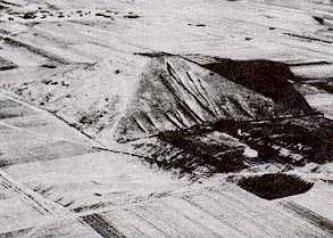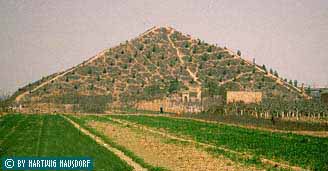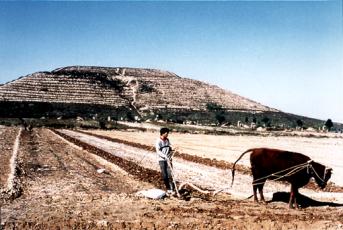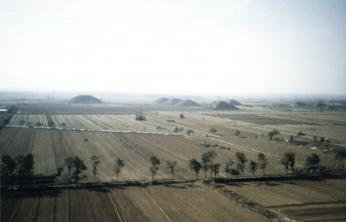 The black and white photo was taken by James Gaussman, an American pilot, at the end of WW II (the others are by Mr Hausdorf).
These are not stone pyramids, nor earth mounds, but a combination of the two – made of earth and clay, shaped like pyramids with flattened tops (the same technique as Teotiuhuacan). It is rumoured that in recent times the Chinese Government ordered the planting of trees on the pyramids as a way of disguising them as regular hills, or at least their making their shape harder to discern. New Zealand author Bruce Cathie sought information on their exact locations, so he could fit them into his Harmonic Grid. After initially denying their existence outright, the Chinese officials eventually conceded that there are some "trapezoidal tombs" [i] .
According to Hartwig Hausdorf [ii] , they differ in size from between 25 to 100 metres in height, with the exception of one, the Great White Pyramid. It is situated to the north, in the valley of Qin Lin, and is possibly the world's largest pyramid, with an approximate height of 300 metres (twice the size of Egypt's largest).
Update! – In 2004 Chris Maier studied satellite images of the Xian region, found the same pyramids as Hausdorf, and then went there and took a look. Turns out that they are not in a "forbidden zone", are quite well known, and any tourist can take a look, or even climb the biggest pyramid for free! Read his article
Update! – In 2002-2007, Emperor Qin Shihuang's tomb (home of the terracotta warriors) was proven (using radar and other remote sensing technologies) to be more than a earth mound – underneath the dirt is a four-sided, nine-stepped pyramid, very similar to those in Central America. Read more at Channel 4, and China.org – the image below is the shape they believe the pyramid takes.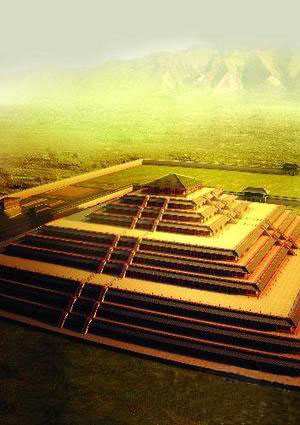 Russia – Brat & Sestra, nr Nakhodka
320 metres high each, they were until recently in a military zone. Today they are being mined (or could that be a cover for treasure hunting?) – which explains why the top has been removed from one of them. More at Flip Coppins site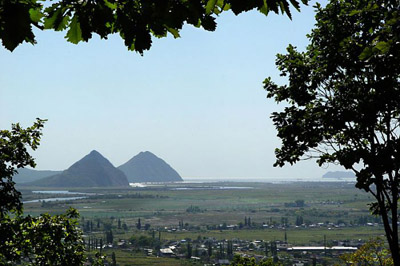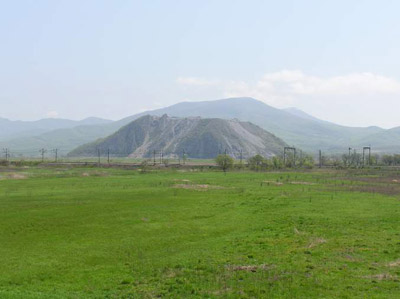 Korea
Andong step pyramid, is the best one of pyramids survived being undestroyed in South Korea, is located at soktapri, andong, korea, in the northern valley of Mt. Hakka, 30 km road away from Andong. 13.2 meters by 12.7 meters square and about 4.5 meters high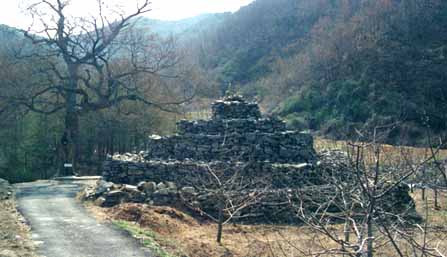 Tahiti
When Captain Cook visited Tahiti, he described the Marae of Mahaiatea as having a stepped pyramid with a base of 259 by 85 feet. Unfortunately all that remains today is a pile of stones. This drawing comes from the 1799 book The Voyage of McDuff.
Western Samoa
On the island of Savai'i you can find Polynesia's largest ancient structure, the Pulemelei Mound. The Lonely Planet guide for Samoa describes it:
This large pyramid measures 61 metres by 50 metres at the base and rises in two tiers to a height of more than 12 metres. It is almost squarely oriented with the compass directions.. Smaller mounds and platforms are found in four directions away from the main structure. There is a relatively large platform about 40 metres north of the main pyramid and connected to it by a stone walkway.
Unfortunately the jungle there is almost uncontrollable. The pyramid has been cleared on several occasions, but when I studied it in 1996 it was overgrown and difficult to locate. So much so, that it was only when I kicked a stone embedded in the top platform did I realise I had found it! The bottom right corner of the photo is the pyramid. UPDATE: Since 2002 the site has been cleared and studied by experts. New pictures and information.